Sunday, August 22, 2010

Story and photography by SOPHIA DEMBLING / Special Contributor to The Dallas Morning News

EPHRAIM, Wis. – In summer, Wisconsin's Door County smells of suntan lotion and campfires. It bustles with families – many have vacationed here for generations – who spend days on the beach or in a boat, grill burgers for dinner, then stroll into town for ice cream cones to eat while watching the sun set over Green Bay. It's an old-fashioned, iconic summertime scene.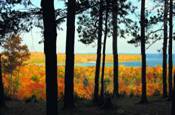 Mostly flat, Door County is easily bikeable, whether in the towns or in Peninsula State Park.
The fall foliage usually peaks in mid-October.
In early fall in Door County, the Adirondack chairs overlooking the bay are empty and the beaches are quiet, but trees are vivid red, orange and yellow. Porches are decorated with scarecrows and potted chrysanthemums. Days are bright and brisk, evenings are chilly. It's an old-fashioned, iconic autumn scene, too.
With Green Bay to its west and Lake Michigan on its north and east, Door County is a 70-mile peninsula scalloped with small bays trailing off to a cluster of northern islands. The peninsula is welcoming forest and farmland, though its shores are rocky and treacherous and littered with shipwrecks.
It's not hard to guess why this cold-country landscape was adopted by hardy Norwegians in the mid-1800s – the kind of people who would tramp across a frozen bay and think it a fine spot to put down roots.
That's how Moravian minister Andreas Iverson settled the village of Ephraim, on the bay side. He brought his congregation here and they built a church and a school and a store and little houses, all sweet and still standing, lovingly preserved for visitors. Tours are led by amateur historians with a passion for the place.


The lighthouse on Cana Island, the oldest of 10 lighthouses on the peninsula, offers a grand view.
The Anderson Store dates to 1858 and was operated by the same family until its closing 100 years later; now it's a museum. At the Pioneer Schoolhouse, visitors to the school tuck into little desks for a history lesson. The one-room schoolhouse cost $658 to build in 1880, "including two coats of paint and two outhouses," said docent Karen Ekberg, whose mother, Helen Sohns, was the school's last teacher and led the campaign to save the school from demolition (and co-founded the Ephraim Historical Foundation) after it was closed in 1948.
By the turn of the last century, holidaymakers had discovered the peninsula; at one point there were 11 grand hotels charging as much as $1 day, including meals. Today, the graceful Evergreen Beach resort, circa 1897, and the 1900 Edgewater Resort are among those still operating, although their rates have increased.
The Old Post Office Restaurant, housed in a turn-of-the-last-century post office, is one of the restaurants (along with the Viking Grill) maintaining the tradition of the old-fashioned fish boil, which once was a church fundraiser for local fishing communities.
"Then someone said, 'I wonder how the tourists will grab on ta dis one,' " boil master Earl Jones said before launching into a stream of corny fish jokes.
The fish boil is a folksy evening around a blazing fire that culminates with a big pot of boiled whitefish and potatoes for dinner. If that doesn't sound appealing, opt for a different Wisconsin tradition: fried cheese curds, at the historic Wilson's Restaurant and Ice Cream Parlor, which has been indulging tourists since 1906.
Ephraim is one of a string of pretty villages – also Fish Creek, Sister Bay and Egg Harbor – trimming the Green Bay side of the peninsula. Here is where much of the shopping, dining and general bustle are. The Lake Michigan side of the peninsula is quieter and wilder, with haunting and delicate Whitefish Dunes State Park near Whitefish Bay; the limestone caves and crannies carved by pounding waves of Lake Michigan at Cave Point County Park in Sturgeon Bay; and the peninsula's oldest (of 10) lighthouse, on Cana Island at Baileys Harbor.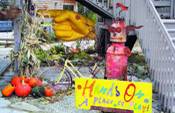 Karon Ohm and Cy Turnbladh have created a playground for creativity at Hands On Art Studio in Door County, Wis.

Mostly flat, Door County is easily bikeable – from town to town or, in Peninsula State Park, through forest to sweeping autumn vistas. The leaves peak around Columbus Day in mid-October, but color can last for a few more weeks after that.
Door County is one of the nation's largest producers of cherries, although the season is long over by autumn. Farm markets such as Seaquist Orchards and Orchard Country Winery & Market are cheery cornucopias of cherries: dried and candied, dipped in chocolate, baked in pies, chopped in sauces, squeezed into cherry juice. The markets also have acres of apples, pumpkins and all manner of baked goods, fruit wines and generally festive foods.
Artists, too, are attracted to this lovely countryside (and the well-heeled people who vacation here), where they create, show and sell.
At Edgewood Orchard Galleries, which represents regional and national artists, there's now a sculpture garden where apples and cherries once grew, and a gallery in an old fruit barn.
The potters at Clay Bay Pottery and Potter's Wheel Studio offer demonstrations of their art.
Or, take matters into your own hands at Hands On Art Studio, where Cy Turnbladh has built from old barns a series of rambling, inviting studios. There, for the price of materials and a nominal studio fee, you can create your own art – jewelry, fused glass, painted pottery, even metal art – under helpful guidance.
Door County has as lot to offer in autumn. At the end of October, though, businesses start closing or cutting back hours for the winter. The fish-boil pots are stored. The American Folk Theater and Peninsula Players Theater finish their seasons. The Cana lighthouse closes to the public. Trolley tours go idle. Nights get colder and Wisconsin prepares for its long winter. And then, Door County transforms again.
Picture it covered in snow.

Sophia Dembling is a freelance writer in Dallas.